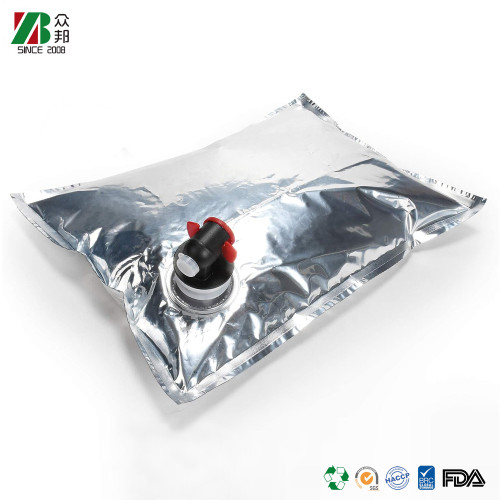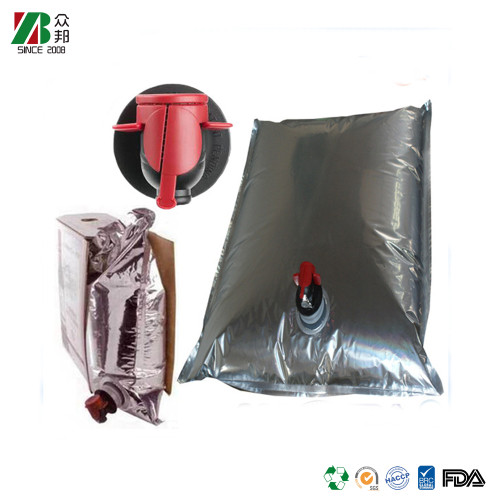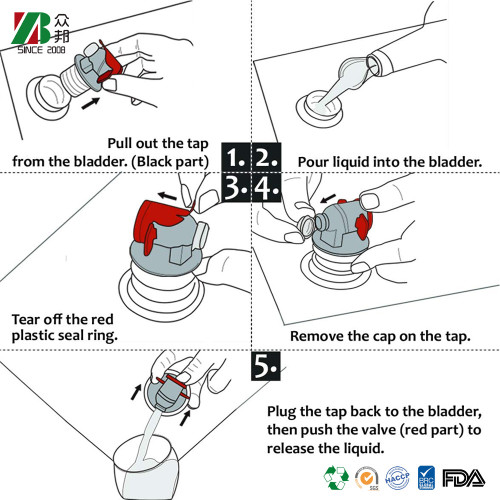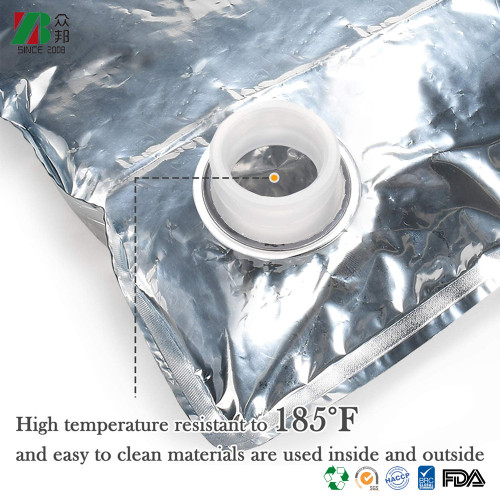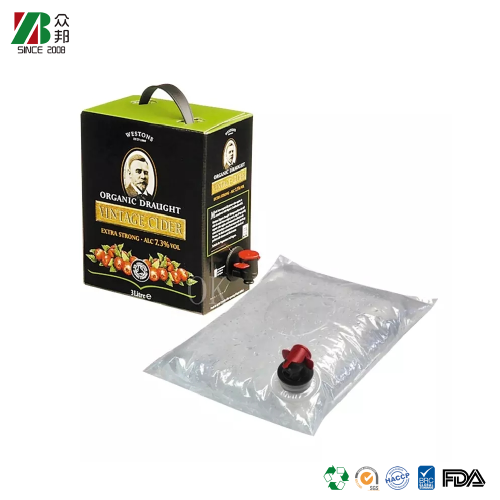 Plastic Packaging Aseptic BiB Bag In Box 3L 5L 6L10L 20L For Fruit Juice Wine Coffee BiB Bag
Item specifics
Size & Thickness

Customizable
Printing

Gravure Printing
Printing Color

Up to 10 colors
Delivery Time

20-25days
Trade Term

EXW,FOB,CFR,CIF
Description
Our Unique Wine and Alcohol Packaging Bags



In the current competitive market for alcohol, not only does your product need to be high quality, but so does the packaging it comes in. You need the perfect spouted pouch to catch the attention of wine lovers looking for a new treat to impress their guests. A lot of brands use glass bottles or boxes instead of wine and alcohol packaging bags, but why? Honestly, we're trying to figure that out. Give us a chance and we'll tell you exactly why spouted pouches are a better alternative.
Pouched Alcohol Drinks vs. Other Containers
While glass bottles for liquor can look fancy, what purpose do they really serve? Using those bottles takes up more room in landfills and is harder to recycle than our spouted pouches are. Our environment needs as much help as it can get, which is why we live by the motto "Reduce. Reuse. Recycle."
A Wine and Alcohol Packaging Bag from us weighs twenty times less than a glass bottle. Isn't that crazy? Another upside of using spouted pouches for your liquor is that they won't tear very easily. All it takes is one person to drop a glass bottle and the fun is over for everyone. Try to drop a spouted pouch from us... nothing will happen. The product is as safe as ever, thanks to our multiple layers of barrier film. These layers have been laminated together to protect against punctures, odor, moisture, UV light, and even air. So which looks more appealing now – pouch alcoholic drinks or bottled ones?
So what about cardboard then? In most liquor stores, you'll find boxed wine. This is a bit of a misnomer though. The wine is actually in a spouted pouch inside the box. The pouches most packaging companies use need the extra protection of the cardboard, however, our stand up pouch wine doesn't. If you opt to go the stand up pouch wine route, you'll be choosing a spouted pouch that stands proudly on store shelves, showing off its design and sturdiness. Punctures don't stand a chance against the multiple layers of your choice of foil, Mylar, clear structures, or metalized film used for your stand up pouch wine.
Why our spouted pouches?
If you're not convinced yet, no worries. One of the main reasons Zhongbang Packaging stands out above the rest is that we offer so many ways to make your brand shine. Want a custom-printed pouch? You've got it! Submit your design to us and we'll approve it if it meets the Artwork Guidelines. After that, you'll receive your pouches within 3-6 weeks.
For those who want to package their product and get it out there asap,contact us! You'll get the the plastic bag within 6-12weeks. For the custom bags, we allow you to add features such as tear notches, gas release valves, window openings, heavy duty zippers, and pour spouts. Don't keep the wine and margarita enthusiasts waiting!